New Mother's Group May 2021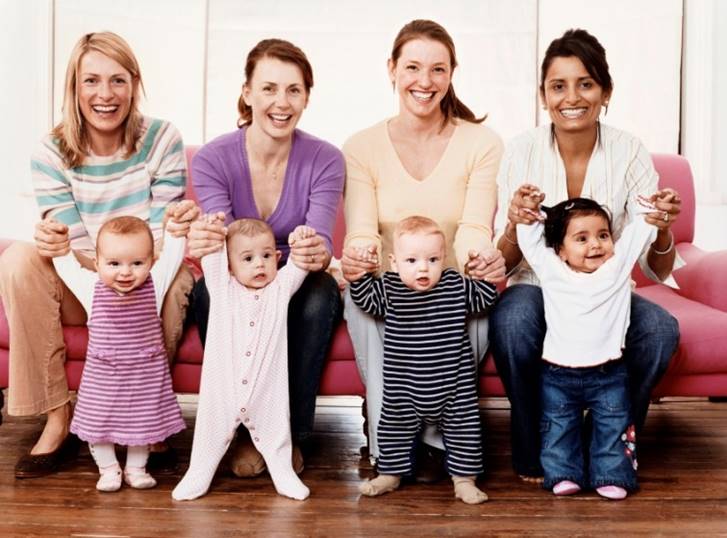 Sign up to the May 2021 New Mothers' Group
, Febru
New Mothers Group starting 11th May 2021
Since 2017, Compass Psychology has run a mother's group for foreign and English speaking women in the Helsinki region who have become first time mothers. We understand that being a new mother is exciting, but it can also be daunting and lonely especially if Finland is your home away from home. The aim of this group is to provide you with practical advice for yourself and your newborn baby, as well as a social support system for you in Helsinki.
In our four week, five session program we offer:
Post natal yoga & recovery from birth, using exercises that you can do with your baby, led by a qualified Birthlight yoga teacher in a yoga studio

Information on social services in Finland, where to get help for you or your baby, useful contacts and resources in English

Answers to all your breastfeeding questions from a lactaction advisor and a chiropractor.
A chance to talk about your birth, changes in your life and relationships after the birth and the emotional difficulties of having a baby when you are far away from home, friends and relatives, supervised by a qualified psychologist at all times.
The New Mothers' Group is your chance to talk to other mothers about the highs and the lows of new parenthood in a relaxed and welcoming setting. At the same time you will also learn more about your recovery from the birth, feeding, sleeping, post natal mental health and other topics from a variety of professionals. Most importantly, you'll meet other mothers going through what you're experiencing, and start friendships that could last a lifetime.
The next group is starting on Tuesday the 11th of May 2021 for 4 weeks.  The format is a mix of three small, in-person sessions and two online sessions. This group is for first-time mothers of babies born in January, February, March and April 2021. If you are interested in attending the group, please sign up using the link above.

Important Information
Please note that the group is intended for babies of the same age and you are only eligible to join one you group based on the age of your baby. This group is for first-time mothers of babies born in January, February, March and April 2021.
The group is for 4 weeks and you should commit to your best ability to attending all 5 sessions.
The group is intended for non-Finnish speaking women who are immigrants or expatriates in Finland for whom it is difficult to access Finnish-language services. This group is run as a not-for-profit community service by Compass Psychology to the English-speaking, international community in the Helsinki region.
If you have any concerns about attending the group – such as worrying about how to transport yourself and your baby to the group; concerns that the group is intended only for "women who love motherhood"; or any other concerns that may prevent you from attending, PLEASE CALL us to discuss these matters (0449445717). From experience we find the women who benefit the most from the group are the ones who such concerns; such as struggling with motherhood and caring for the baby,  a long distance to travel,  experiencing social isolation or feeling judged. We aim to make this a safe, non-judgmental space for all types of mothers and highly encourage you to attend if possible. For many of the women who attend it is the first time they have left the house with their newborn baby and we are happy to discuss how to do this if you need advice. Please call Annabel on 044 944 5717 for further information.

Practical Details
The group is for first time mothers of  newborn babies who are around the same age (e.g. 1 to 4 months of age). The group will be run in English and will be for a maximum of 10 mothers.
It is held in at our office in Pohjoinen Hesperiankatu 3B9 once a week for 4 weeks in the morning and once at Purna Yoga studio. The location will offer a safe and comfortable space where you can relax, and easily feed and change your baby. After this we will facilitate the group continuing to meet socially in their own time.
Each week a different professional will come to speak to you. In 2020 the professionals speaking will be:  a chiropractor specialising in mother and baby health (Samantha Leckie); a pre- and post-natal yoga teacher, Nicola Moberg from Purna Yoga; and a doula/lactation/breastfeeding advisor, Maria Fernandez from Espoo Yoga Doula; as well as either Jane or Annabel, clinical psychologists at Compass Psychology
 Details for the May 2021 New Mothers' Group Program

Tuesday 11 May

Time:              10am-11:30am

Venue:   online (Google Meet)

Thursday 20 May (Post-natal yoga session)

Time:              10am to 10.45am

Venue:   Fredrikinkatu 67 E 42, 00100 Helsinki

Upon first arrival call this number to listen to instructions on how to get in to the studio: +358 50 3755078 (desk) Please bring comfortable clothes for the yoga session

18 May (Tuesday) Breastfeeding session

Time:              9:45am-11:30am

Venue:   Pohjoinen Hesperiankatu 3B9, Töölö, 00260 Helsinki

(press B9 "Compass Centre" and we will open the door. Leave your pram in the entranceway and come up to the door to the left behind the lift) What to bring: please bring a baby bag with nappies, spare change of clothes for your baby; anything else you might need, such as toys for your baby or blankets. We will provide changing equipment and wipes, tea and coffee, cake and biscuits, and cloths and a space for you to breastfeed your baby.

25 May (Tue)

Time:              9:45am-11:30am

Venue:   Pohjoinen Hesperiankatu 3B9, Töölö, 00260 Helsinki

1 June (Tue)

Time:              10am-11:30am

Venue:   online (Google Meet)

https://meet.google.com/paz-sjdm-djy
The group is NOT run for profit but will include a charge of 15€ per session to cover tea, coffee, refreshments, resources and use of the venue.
If you are interested in attending the group, please sign up here or by using the link at the top of the page.
If you have any further questions about the group please contact Annabel:   annabel@compasspsychology.fi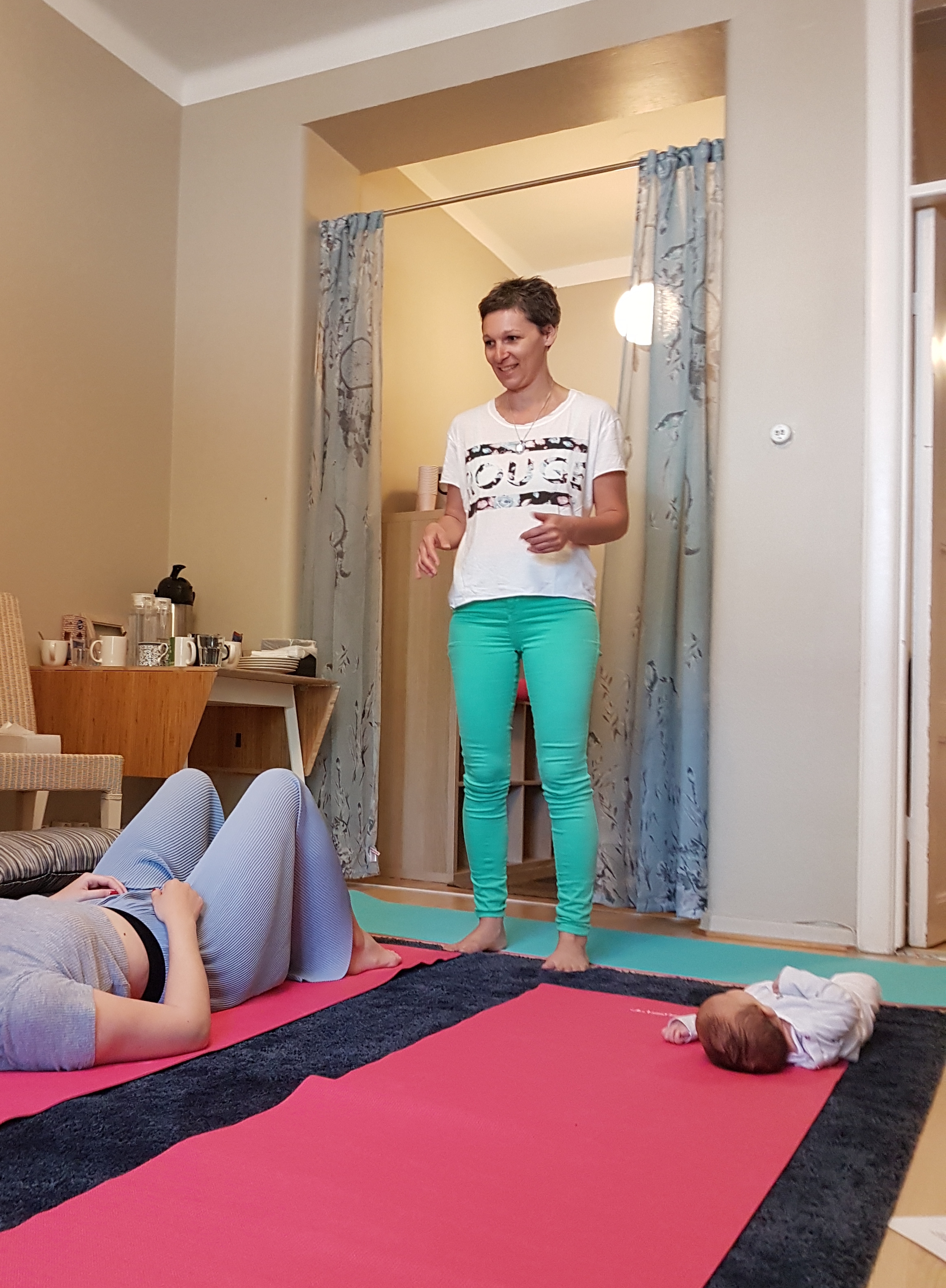 Nicola Moberg, of Purna Yoga, teaching mothers about post natal recovery
New Mothers' Group one year celebration picnic in August 2018
Here are some of the mothers and babies who attended our New Mothers' Group in 2018 at a picnic we organised in August 2018 to celebrate one year of successfully running the New Mothers' Group. We aim to hold this picnic annually for all mothers of from the previous year's mothers' groups.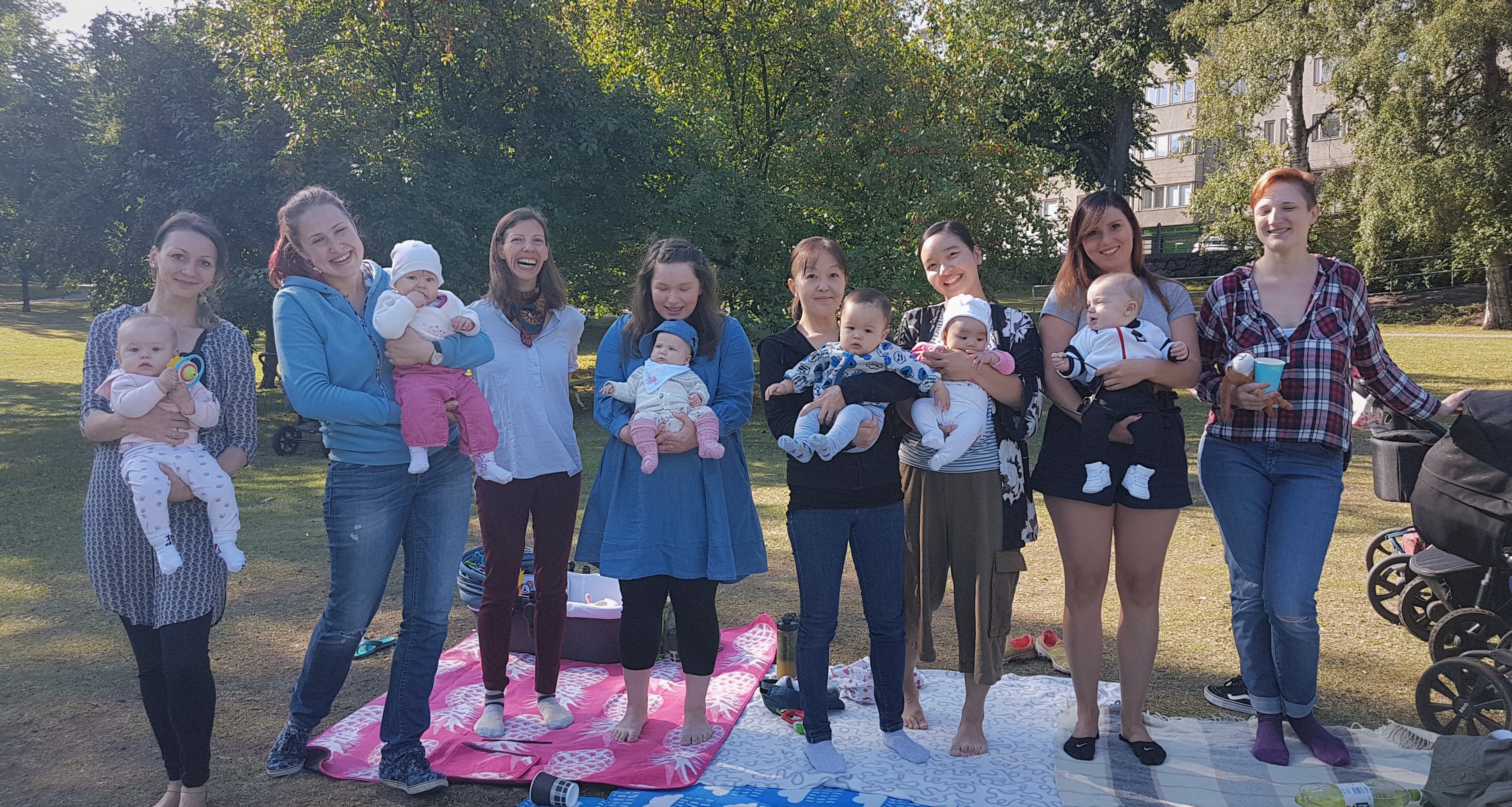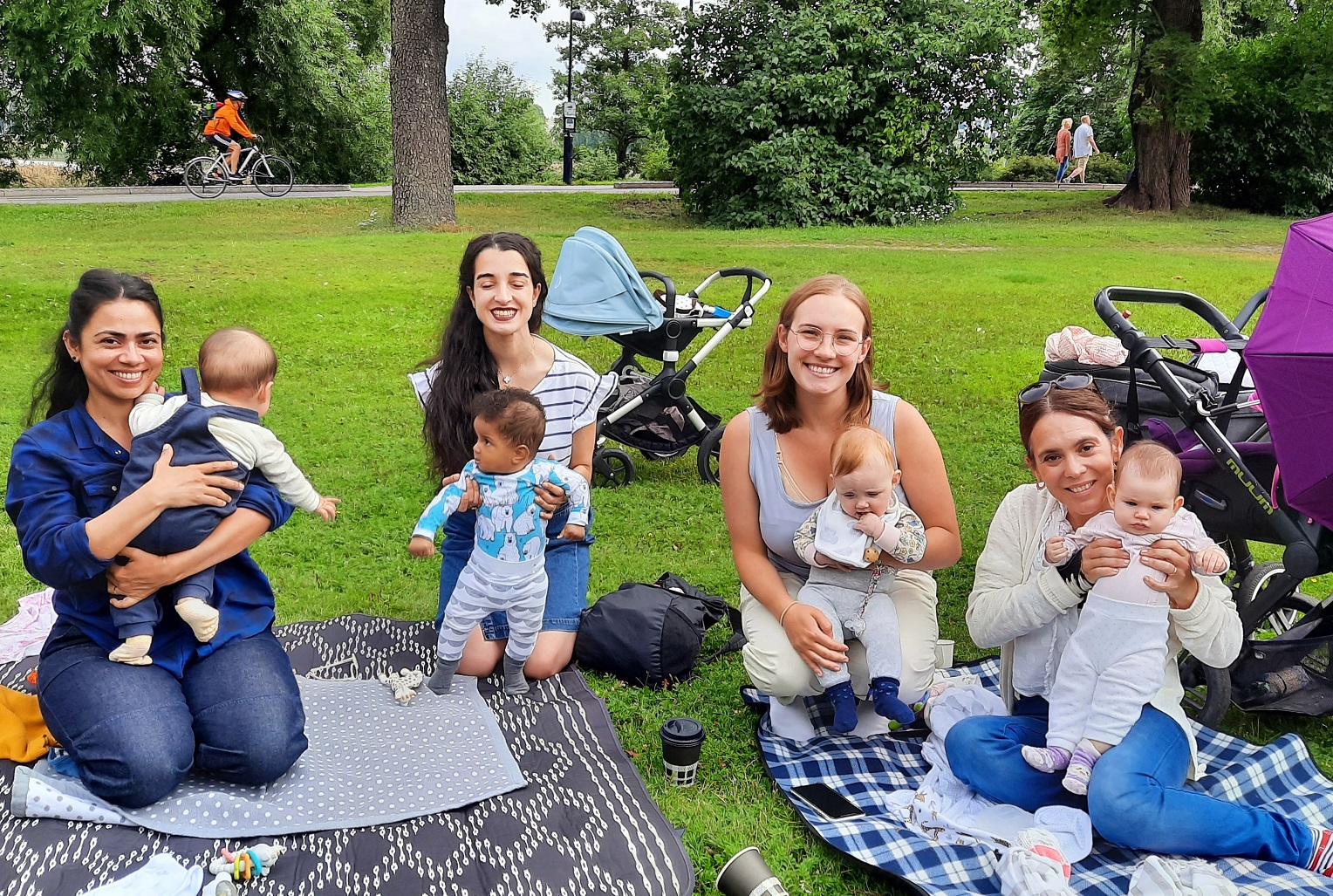 Here is the May 2020 New Mothers' Group meeting up for the annual picnic. This group went through the program virtually in an online environment due to the corona lockdown at the time. However this didn't deter them from setting up their group, and after the 4 week program was over they met nearly every week in person for a catch up for the mums and babies.
Useful information for pregnant women and within the first week of the birth of your baby
Please note, there are many great resources you can access before you give birth and in the important first week afterwards! As we will not be meeting you and your baby for many weeks, it may be helpful to access these services earlier on. 
For pregnancy: we recommend Purna Yoga for pre-natal yoga classes  Another good resource is Espoo Yoga Doula. For aches and pains when pregnant and pregnancy massage, we recommend specialist chiropractor Samantha Leckie.
For birth: We recommend Veera Gindonis from Doulakka and the services of Katilötalo. A doula is a trained birth support person, and this can be very helpful and calming for your during birth, especially if you cannot have your normal family or friends around for support.
For breastfeeding in the first weeks: We recommend Maria Fernandez as a lactation consultant (she can do home visits) of Espoo Yoga Doula, and also for issues regarding breastfeeding posture for mother and baby (as well as latching) chiropractor Samantha Leckie.  Again, a doula is helpful for lactation consultancy too (Doulakka and Katilötalo).